Dr. Onalenna Selolwane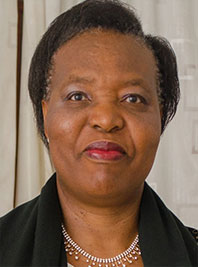 Dr. Onalenna Selolwane is a graduate of the universities of Botswana and Swaziland [BA +CCE, 1978], Sussex, [MPhil Development Studies, 1984] and East Anglia [PhD, Development Studies, 1992]. She taught for three years at Moeng College before joining the University of Botswana as a faculty member: retiring from university teaching in 2013. She has run a number of training and consultative workshops for various government departments, trade unions, women politicians, youth, as well as national and international agencies. Onalenna has also provided consultancy services in research and policy review for a number of government departments and United Nations agencies mainly in development policy for agriculture, women, youth, poverty reduction, economic opportunities, crime prevention, democratic governance. Between 2013 and 2015 she served as a social development expert in a consultancy that drafted Botswana's National Framework for Sustainable Development. She has published several book chapters and journal articles in the areas of development policy for which she has provided consultancy services: including editing a book on Poverty and Policy Regimes in Botswana which was published in 2012.
In terms of leadership, her experience includes heading an academic department through a transformative restructuring process at the University of Botswana, being an executive committee member of a large pan-African organization[the Council for the Development of Social Science Research in Africa, CODESRIA] during its transformative period under diminishing donor finance, as well as serving as a member of the editorial boards of leading academic journals such as: Africa Insight, African Journal of Political Science, African Sociological Review, East African Journal of Peace and Human Rights.
She is also the founding chairperson of the board of directors of Tengro Pty Ltd and Stretching Length Pty Ltd, a founding member and former president of Emang Basadi Women's Association, and an executive committee member of the Mosadi Khumo Women's Association. She is currently serving her second term in the United Nations Committee for Development Policy [New York] as well as the board of the United Nations Research Institute for Social Development [Geneva].