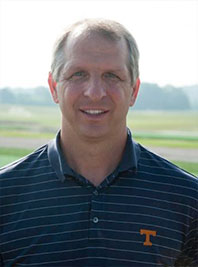 Dr. John C. Sorochan, Ph.D.
A native of Calgary, Alberta, Canada, Dr. John C. Sorochan is internationally recognized as a leader in the design, installation, and maintenance of safe, sustainable, and attractive playing surfaces for major sporting venues.
Dr. Sorochan began working on the grounds crew at Earl Grey Golf and Country Club in 1988. This experience led him to Michigan State University where he earned his Ph.D. in Turfgrass Science in 2002. He is currently a Distinguished Professor of Turfgrass Science and Management in the Plant Sciences Department at the University of Tennessee (UT), where he also serves as the Co-Director for the UT Center for Athletic Field Safety.
Dr. Sorochan's research program coordinates investigations on the following:
Environmental Turf Stress Physiology, including:

Indirect Heat to Shade
Drought to Wear Stress

Athletic Field Management, including:

Athletic Field Performance and Safety to Athlete-to-Surface Interactions
Sustainable Strategies for Reduced Inputs

New Cultivar and Species Evaluation for Management and Use
Sod Production
CONSULTING AND RESEARCH
Dr. Sorochan has achieved national and international recognition for his research and that of his graduate students regarding the performance and safety of natural and artificial sports turf surfaces. His efforts, along with those of Dr. James T. Brosnan and others, have resulted in a strong partnership ($3.4 million) with Astroturf®, leading to the creation of the Center for Athletic Field Safety (CAFS) located at the Plant Sciences Unit of the East Tennessee Research and Education Center. The research at CAFS focuses on the evaluation of athlete-to-surface interactions on a variety of playing surfaces with the emphasis of developing safer, longer-wearing playing fields.
Dr. Sorochan's expertise is sought by many different agencies both in the US and abroad. He has collaborated with Dr. Douglas E. Karcher (of the University of Arkansas) and several turfgrass industry professionals in Germany to create the European Institute of Turfgrass Science to promote the implementation of recommended turfgrass cultural practices based on results of applied research in northern Germany, northern Europe and Spain (via Valencia Polytechnic University).
Additionally, he has made 120-authored presentations to professional groups, 25 invited international presentations, and 14 presentations at AgResearch and sponsored field days since 2002.
The significance of Dr. Sorochan's experience and research is also highly valued by professional athletes and field managers as he serves as the Representative and Advisor for Playing Surfaces to the U.S. Women's National Soccer Team and he represents the National Football League Players Association for any field safety and performance concerns, and serves as the NFLPA representative on the NFL Game Day Surface Ad-hoc Committee. In 2011, the Sports Turf Managers Association presented him the Dr. William Daniels Founders Award, given annually to an individual who has made significant contributions to the sports turf industry through research, teaching, or extension outreach.
AWARDS & RECOGNITION
The relevance and high quality of Dr. Sorochan's research program has been well-recognized in the academic forum where he has had authored or co-authored 36 peer-refereed journal articles, one book, two book chapters, 36 research abstracts, 35 research conference proceedings and trade association journal articles, and 18 peer-reviewed Extension publications.
He has submitted two patent applications and three invention disclosures. In 2015, Dr. Sorochan received the Tennessee Venture Capital Competition Award and the Tennessee Venture Capital Competition Audience Favorite Award from the UT Research Foundation for his invention of a new method to produce healthy sod faster without the need for soil. Since 2007, Dr. Sorochan has secured more than $1.8 million in grants and contracts, $500 thousand in in-kind gifts, and $2.7 million in in-kind contributions in support of his research activities.
Dr. Sorochan is an outstanding and visionary teacher with exceptionally high student evaluations. He is primarily responsible for teaching PLSC 240-Turfgrass Management, PLSC 441-Advanced Turfgrass Management, PLSC 442-Turf Root Zone Management and Construction, and PLSC 493-Independent Practice in Turfgrass Research. He is co-instructor of PLSC 462-Turfgrass Professionalism and Communication and PLSC 466-Turfgrass Strategies. In 2007, Dr. Sorochan received both the College of Agricultural Sciences and Natural Resources (CASNR)-W.F. and Gold Moss Outstanding Teacher Award and the Gamma Sigma Delta Excellence in Teaching Award of Merit.
In 2011, he was presented the E. R. 'Prof' Lidvall Outstanding Teacher Award as well as the CASNR–Outstanding Advisor Award. Dr. Sorochan has supervised three PhD and 10 MS students, and has served on five PhD and seven MS student committees.
International Turf Society (ITS)
American Society of Agronomy (ASA)
American Society Horticultural Science (ASHS)
Golf Course Superintendents Association of America (GCSAA)
Sports Turf Managers Association (STMA) – Committee Member
Tennessee Turfgrass Association (TTA) – Board Member
Tennessee Valley Sports Turf Managers Association (TVSTMA)
Synthetic Turfgrass Council (STC)